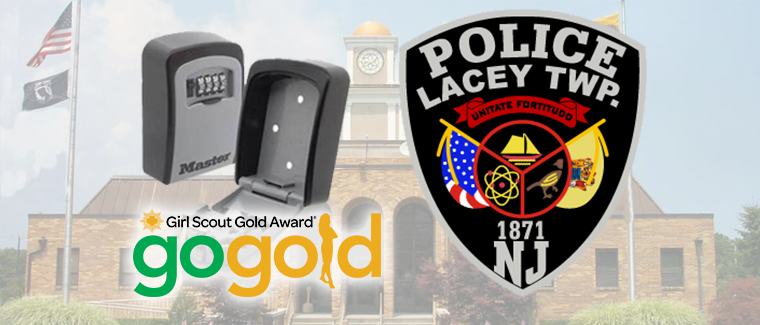 The Lacey Township Lock Box Program is a free community program directed to those 55 years or older and those with potentially incapacitating medical conditions. This program is designed to assist first responders in reaching those in need of emergency assistance. Participants have a lock box containing keys to the house installed in a predetermined location. Only the Lacey Township Police Department has access to the lock box.  The lock box is used in emergency situations where the door is locked and first responders must gain entry to the house.  Use of the lock box can prevent costly property damage from forced entry, and reduce delays in caring for the resident. The lock box may also be used in the event of a well-check. The program, however, is not a lock out service, as residents will not have access to the lock box, and it is for emergency use only.
This program is a Girl Scout Gold Award. The Girl Scout Gold Award is the highest award a Girl Scout may earn and is a leadership based project with an 80-hour minimum requirement. Less than 5% of eligible Girl Scouts earn the Girl Scout Gold Award.
Application forms and guideline forms may be picked up at the Lacey Township Police Department or printed from the links below.