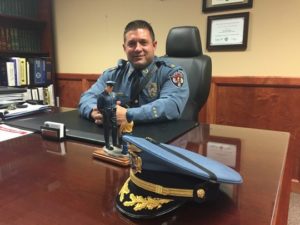 *** Keep in Touch Call in Program ***
The Lacey Township Police Department would like to remind our residents about our free "Keep in Touch" call in program. Similar to our Lock-Box Program, residents who are 55 years of age or older and live alone, or have a medical condition that is potentially incapacitating and live alone, can join the "Keep in Touch" program.
How the Program Works
Lacey Township residents who are registered with the program simply call the police department at 609-693-6636 (non-emergency number) before, for example, 11:00 a.m. daily and inform the police dispatcher they are checking in for the day and are ok.
If the registered resident does not contact the police department by a specified time, the police dispatcher will first call them and attempt to verify they are ok. If the police dispatcher is unable to make contact with the resident, a police officer will be dispatched to their residence to check their well-being. Over the course of this program, officers have made contact with residents inside their home who were unable to call and check in because of medical emergencies. There were also occasions where police officers had to force entry into the residence to assist with medical emergencies. This brings me to our Lockbox Program.
The "Keep in Touch" program works hand-in-hand with our Lock-box program. When an officer responds to a residence for a well-being check, for example, a keep in touch resident who does not call in and is unable to be contacted, if they are a registered lock-box participant, the officer could simply utilize the lockbox key to make entry into the residence if the officer has to. This would prevent any possible damage to the residence, for example breaking a window. See the below link for our Lock box program.
http://laceypd.org/department-news-lacey-township-police-department-lacey-lock-box-program/
If you are a resident who is interested in this program, or you know someone who might be interested, an application for the "Keep in Touch" program can be picked up and/or completed at the Lacey Township Police Department. The applications for the Keep in Touch program are available at the Lacey Township Police Department 24/7. Just come in to the lobby of police headquarters and go to the dispatch window and ask for the application. Again, this program, just like the lock box program, is free to our residents.
If anyone has any questions in regard to this program, please contact Lieutenant Paul Sullivan, Jr., at 609-693-6636 ext 2577 or Lieutenant Christopher Cornelius at 609-693-6636 ext 2566.
Thank you
-Chief Michael C. DiBella