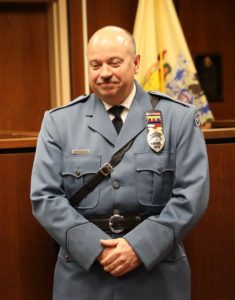 This past Friday, May 15, 2020, Lacey Police Sergeant Michael Eden, Badge #59, worked his last tour of duty, in preparation for his official retirement after 25 years of service to the residents of Lacey Township. At approximately 11:30 a.m., in the rear parking lot of Police Headquarters, Sergeant Eden signed off the police radio for his final time, receiving a round of applause from his fellow police officers and staff members. His family also surprised him as he signed off for the final time (see link below).
Sgt. Eden was hired by the Lacey Township Police Department in August of 1995, where he served in the capacity of Police Officer for 21 years. In 2016, he was assigned as a detective, where among other duties, he coordinated departmental training, conducted background investigations, and completed special projects for the police department.  In February of 2017, he was promoted to the rank of Sergeant, and was assigned as a supervisor in the Patrol Division. In March 2017, Sergeant Eden was appointed as the Township's Assistant Deputy Emergency Management Coordinator, where among other responsibilities, he focuses on hazmat and terrorism related training and concerns. He remains in this position today.
During Sergeant Eden's distinguished career, he has "worn many hats," and has served as a tremendous asset to our agency and community.  In addition to serving the department as our School Resource Officer, Field Training Officer, EMT, Firearms Instructor and Armorer, Rescue Diver, and SWAT Tactical Marksman, Sgt. Eden also served as a Volunteer Fire Chief with the Bamber Lakes Fire Company, and is currently a District Warden with the New Jersey Forest Fire Service.  Sergeant Eden is the recipient of many awards and commendations, which include multiple lifesaving awards (one for saving the life of a pregnant woman during a structure fire in October 2013), the Meritorious Service award, and the Medal of Honor.
Sgt. Eden, all of us at the Lacey Township Police Department thank you for your hard work and dedication to our community. While we are well aware of the voids that need to be filled in your future absence, we wish you and your family all of the best in your future endeavors.  We know that, "You'll be gone, but you won't be far."
Congratulations on your retirement!!
Your Lacey Police/PBA #238 Family