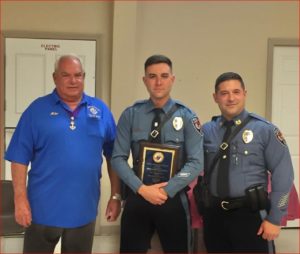 The above photo depicts Officer Michael Hutman (center) after receiving his award from the Knights of Columbus on the evening of Thursday, September 17, 2020
On Thursday evening, September 17, 2020, the Knights of Columbus Council #6522, honored Lacey Township Police Officer Michael Hutman for his exemplary service to the citizens of Lacey Township. Officer Hutman's family, along with Chief Michael C. DiBella were present for the award.
Officer Hutman was first hired by the Lacey Township Police Department as a Special Police Officer in June 2010. He was hired as an Ocean County Sheriff's Officer in July 2015 and remained with the Sheriff's Office until he was hired full-time by the Lacey Township Police Department in February 2018. Officer Hutman is a resident of Lacey Township having graduated from the Lacey Township High School. He is currently working on his Bachelor of Arts degree at Fairleigh Dickinson University.  Officer Hutman received the Grand Cordon Ribbon Award in 2012 for his assistance during Superstorm Sandy, and was recognized by then Congressman Tom MacCarthur for his assistance with helping a homeless man.
In his passion for law enforcement, Officer Hutman prioritizes the concept of Community Policing and enjoys interacting with the public. Officer Hutman has been responsible for coordinating several programs and events for the Lacey Township Police Department, including the Coffee with a Cop event hosted at Wawa just prior to the COVID-19 pandemic. Officer Hutman is also involved with our department Facebook program related to honoring retired police officers from Lacey Township. I was very pleased to see Officer Hutman recognized for his hard work and dedication to our residents and continue to wish him well in his career. I would also like to thank the Knights of Columbus for their continued support of the Lacey Township Police Department.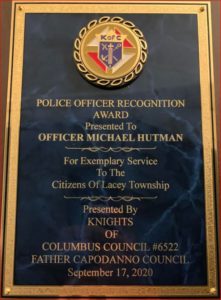 -Chief Michael C. DiBella