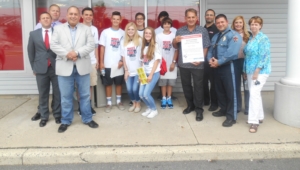 The above picture includes (in no particular order) Lacey Police Chief Michael DiBella, Lieutenant Paul Sullivan Jr., Deputy Mayor Peter Curatolo, Nick Juliano, Lacey High School Principal Gregory Brandis, Municipal Alliance Coordinator Heather Scanlon, DART Prevention Coalition Adrienne Shulz, and Spirits Unlimited Store Manager Anthony LaMoriello. The students include (in no particular order) Michael Spina, Hailey Carskaddan, Joseph Serrano, Daniel Troise, Cole Kerchner, Kelsey Conover, and AJ Bahooshian.
DART Prevention Coalition of Ocean County Sticker Shock Program brought to Lacey Township
On Thursday, September 1, 2016, between 3:00 p.m. and 5:00 p.m., members from the DART Prevention Coalition of Ocean County presented their 5x Sticker Shock Program in Lacey Township. The Lacey Township Police Department, the Lacey Township Board of Education (Lacey Township High School), and the Lacey Township Municipal Alliance assisted with the program.
The goal of the DART Coalition's 5x Sticker Shock program is to educate potential suppliers of alcohol, raise public awareness about underage drinking, and strengthen the deterrent effect of the law against providing alcohol to minors. Although drinking alcoholic beverages under the age of 21 is illegal in the United States, the Centers for Disease Control and Prevention reports that individuals aged 12 to 20 years old drink 11 percent of all alcohol consumed across the nation. The 5x campaign is premised on the research that kids are 5X more likely to develop an alcohol problem if they start drinking before the age of 15. Sticker Shock, a component of the 5X Campaign, is designed to reach adults who might purchase alcohol legally and provide it to minors. During the program's administration, bright red stickers warning about the penalties for furnishing alcohol to minors are placed on alcohol products, including beer and wine coolers, which might appeal to underage drinkers.
During today's program, several Lacey Township High School students were taken to Spirits Unlimited, located at 3 Lacey Road in Forked River, Lacey Liquors, located at 349 Route 9 North in Lanoka Harbor, and Jr's Liquors located at 1000 Lacey Road in Forked River, where they placed several sticker shock stickers (photo below) on various packages of alcoholic beverages throughout each store. Each store took approximately 25 minutes.  The event was a true success and I would like to thank everyone who participated. – Chief Michael C. DiBella