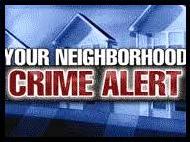 Stolen Vehicle and Resisting Arrest – On Wednesday, June 18, 2014, at 2:19 a.m., Officer Adam Ewart was on patrol in a marked police vehicle when he observed a red, 4-door Jeep Cherokee traveling north on Route 9 without working tail lights and failing to maintain a lane. Officer Ewart pulled up behind the vehicle as it made a left turn heading west on Lacey Road. The officer activated the patrol vehicle's overhead lights and attempted to conduct a motor vehicle stop. The operator of the suspect vehicle failed to pull to the side of the roadway and instead continued traveling west on Lacey Road before turning onto Hoffman Road in Forked River. The driver and the passenger of the vehicle both jumped from the moving vehicle and fled the scene on foot. The driverless vehicle continued on Hoffman Road until crashing into a fence and a tree.
Officer Ewart pursued the subjects in the darkness on foot, and once in the backyard of a nearby residence, he was able to briefly catch the male who was driving the vehicle. The male subject resisted arrest and engaged in a physical altercation with Officer Ewart. The male subject was ultimately able to break free and flee the yard over a fence after Officer Ewart sustained an arm injury. Officer Ewart was later treated at Southern Ocean County Hospital.
Both subjects were white males in their early 20's. The driver is described as a white male with some facial hair (slight beard) who was wearing a grey sweatshirt at the time of the incident.
The investigation quickly led to the discovery that the red, 2000, 4-door Jeep Cherokee involved had just been stolen from 94 Atlantic Avenue in Waretown, NJ. The incident is currently under investigation by detectives from the Lacey Township Police Department with the assistance of forensic specialists from the Ocean County Sherriff's Department Criminal Investigation Unit (CIU).
Various leads are being followed with possible suspects being investigated. Anyone with information regarding the identity of the subjects who stole the vehicle from Waretown and fled the scene in Lacey are asked to call Detective Brian Flynn at 609.693.6636 x2593 of the Lacey Township Police Department or submit an anonymous crime tip through the department's website at www.laceypd.org/crime-tips.