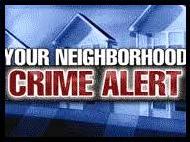 *** Public Notice – Motor Vehicle Burglaries ***
The Lacey Township Police Department is requesting our community's assistance to help solve several motor vehicle burglaries. This past weekend  (primarily the early morning hours of January 19, 2019, between midnight and 6:00 a.m.) the Lacey Township Police Department responded to several motor vehicle burglaries in the area of Lake Barnegat Drive North, Emerald Court, and Hilltop Drive,  all in the Lanoka Harbor section of the Township.  All of the vehicles that were entered were left unlocked, and either parked in the driveway or on the street.
Residents with surveillance cameras/Ring Door Bells (video camera) are being asked to check their recordings for suspicious persons/activity in the area of the vehicle burglaries. Anyone who might have information is asked to contact Lacey Police Detective Keith Pearce at 609-693-6636 ext. 2561.
Please always remember to lock your vehicles and remove any valuables. If you have to leave valuables in your vehicle be sure to lock them in the trunk or place them out of sight.
Thank you,
-Chief Michael C. DiBella