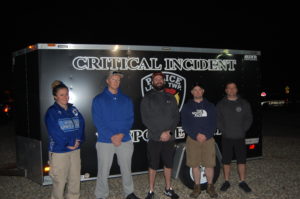 Pictured above:  Sheriff's Officer Christine Woltman, Detective Charles May, Detective Adam Ewart, Patrolman Brian Holt, and Detective Brian Flynn.
At 5:00 am, Thursday, May 9, 2019, four officers of the Lacey Township Police Department and one Ocean County Sheriff's Officer departed headquarters to participate in the 2019 Police Unity Tour.  The annual event includes a four-day bicycle ride to Washington, DC, raising awareness about law enforcement officers that have died in the line of duty.
Our officers will join with officers from other jurisdictions at the New Jersey State Police Division Headquarters in Trenton, New Jersey to begin the first leg of the tour ending in Atlantic City.  The ride will culminate on Sunday, May 12th at the National Law Enforcement Officers Memorial.  Once there, riders will be greeted by families of fallen officers in addition to their own family and friends.
In addition to their participation, each of the officers raised funds over the past several months that will be donated to the National Law Enforcement Memorial Fund.  Last year's line of duty deaths totaled 163 nation-wide.