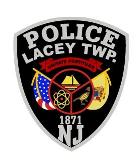 UPDATE: As of 2:20 a.m., the roadway is now OPEN.
ROADWAY REOPENED
Emergency Road Closing – West Lacey Road (Monday, August 11, 2014 – 1 a.m. to present) – Due to a chemical spill (possible diesel fuel) on West Lacey Road between Penhook Road and Aspen Road, the section of West Lacey Road from the Garden State Parkway (GSP) to Dover  Road will be closed until further notice. The Berkeley Hazmat Unit is on scene (1:00 a.m.) and efforts are being made to properly deal with the spill. West Lacey Road will not be available to motorists until further notice. Alternate routes will need to be utilized.
The roadway will be blocked for westbound traffic near the Garden State Parkway requiring that westbound traffic use an alternate route. Since there is no outlet along West Lacey Road prior to the spill, traffic will not be permitted to continue beyond the area of the GSP. Likewise, traffic heading eastbound from the area of Bamber Lake will be diverted at Dover Road, as no other outlet is available. The roadway will be opened as soon as the area is rendered safe by the Hazmat Unit.
The actual spill of several 50 gallon barrels of possible diesel fuel occurred on West Lacey Road between Penhook Road and Aspen Road in Forked River. The origin of the 50 gallon barrels is unknown as of the time of this posting and is under investigation. Thank you for your anticipated cooperation. – Chief David A. Paprota, Ed.D.