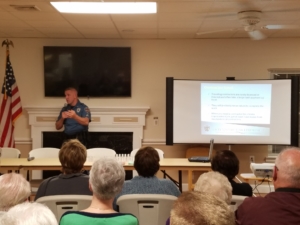 The attached picture depicts Lacey Township Police Sergeant Robert Flynn presenting during the Senior Scams and Identity Theft presentation held at the Pheasant Run Clubhouse in Forked River, on Wednesday, October 5th, 2016. 
The Lacey Township Police Department conducted two separate presentations on senior scams and Identity Theft, targeting the senior citizen community. The first event was held on Friday, September 30th, 2016, at the Lacey Township Community Hall in Forked River, during the Senior Luncheon, and the second event was held on Wednesday, October 5th, 2016 in the Pheasant Run Clubhouse in Forked River.  Lacey Township Police Chief Michael DiBella and Sergeant Robert Flynn were the presenters during both events. The primary presenter, Sergeant Flynn, discussed different types of frauds including but not limited to the international lotteries, IRS and Electrical Company phone scams, banking emails (phishing), and the more recent "Grandson phone calls" where the caller acts as a grandchild and requests money to post bail for a bogus out of state DUI Arrest. Chief DiBella focused on credit card fraud and preventative safety measures for the upcoming Holidays. In addition, several tips for recognizing different scams, along with multiple resources on how to prevent becoming a victim of a scam were supplied.
Local community organizations interested in having a presentation on scams may contact Lacey Police Chief Michael DiBella at 609-693-6636 ext. 2511.
– Chief Michael C. DiBella