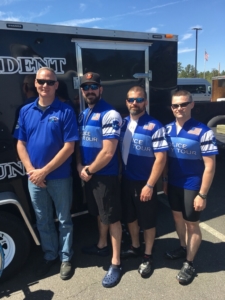 Four members of the Lacey Township Police Department participated in the 2017 Police Unity Tour to Washington D.C. from May 9th thru May 12th, 2017.  On Tuesday morning, May 9, 2017, they joined more than 400 other riders and participants from chapters 10 and 13 at the Mercer County Police Academy as the starting point of their annual trek to Washington, D.C.  More than 2500 officers and participants from all over the world take part in this event.
The primary purpose of the Police Unity Tour is to raise awareness that more than 22,000 Law Enforcement Officers have died in the line of duty.  The secondary purpose is to raise funds for the National Law Enforcement Officer's Memorial and Museum.  http://policeunitytour.com/
The officers from Lacey Township rode this year in remembrance of Officers Jody Carl Smith (Georgia Southwestern State University) https://www.odmp.org/officer/23056-public-safety-officer-jody-carl-smith and Nicholas Ryan Smarr (Americus Police Department of Georgia). http://www.odmp.org/officer/23055-police-officer-nicholas-ryan-smarr
The Lacey Township Police Department officers who made the trip this year, pictured from left to right: Sergeant Robert Surtees, Detective Adam Ewart, Detective Brian Flynn and Officer Brian Holt.