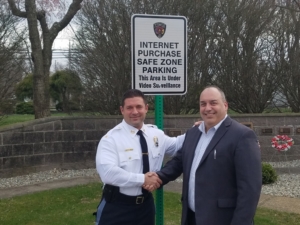 The above photos depict the newly installed "Internet Purchase Safe Zone" signs posted in the front parking lot of the Lacey Township Police Department.
Beginning today, March 24, 2017, it will be safer and easier  to conduct on-line business transactions in the township, thanks to the efforts of Lacey Township Mayor Peter Curatolo and Police Chief Michael C. DiBella.  Sometimes, transactions on Craigslist, Ebay and other online sites are too good to be true, and unfortunately they can sometimes be very dangerous. It is important to remember that people you meet online are strangers and can be dangerous.
With the recommendation from Mayor Peter Curatolo, the Lacey Township Police Department is proud to announce the creation of an Internet Exchange Safe Zone where citizens can make sales and purchases through online sites such as Craigslist.  The Safe Zone was created to provide a safe location for buyers and sellers to complete their transactions, while at the same time protecting the citizens (buyers and sellers) of Lacey Township from incidents such as Thefts and Scams, which have become more prevalent with on-line tranaction sites. The Internet Exchange Safe Zone has been arranged in the front parking lot of the Lacey Township Police Department, located at 808 W. Lacey Road in Forked River. The parking lot is well-lit and continuously monitored by surveillance cameras. Two designated spaces in the front parking lot are marked with signs that state "Internet Purchase Safe Zone."
Respectfully, the Lacey Township Police Officers/Employees will not be participating in the transactions or able to act as witnesses. In addition, the officers/employees will not be available for legal advice or allowed to settle disputes between parties involved in transactions occurring at our facility. Transactions involving any type of weapons or drugs are strictly prohibited from the Lacey Township Police Internet Exchange Safe Zone.
Our primary goal in the safe zone effort is to create an easily accessible, secure place, for the residents of Lacey Township to conduct transactions.
I would like to thank Mayor Peter Curatolo for recommending the idea of a safe zone.
If anyone has any questions in regard to the Internet Safe Zone you may contact Lieutenant Paul Sullivan, Jr., at 609-693-6636 ext. 2577.
-Chief Michael C. DiBella