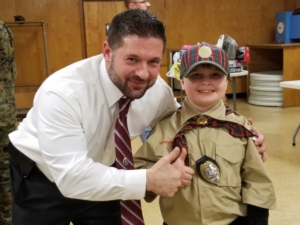 The above picture depicts Chief Michael C. DiBella and 9-year-old Alex from Forked River, during the Annual November Pot Luck Pack night held at the Community Hall, on the evening of November 17, 2016.
On the evening of Thursday, November 17, 2016, members of the Lacey Township Police Department attended the Cub Scouts Pack 35 Annual November Pot Luck Pack Night, held at the Lacey Township Community Hall, beginning at 6:30 p.m. Chief Michael DiBella, Lieutenant Paul Sullivan, Jr., and Officer Jason Lee joined several cub scouts and their families from Pack 35, along with members of the United States Marines.  The Lacey Township Police Department brought their Emergency Services Unit and the United States Marines brought two military vehicles. The evening consisted of food and fun, which included several photos of the cub scouts interacting with the Military and Police vehicles. In addition, Cub Scout Pack 35 donated several toys  to the Marines "Toys for Tots" program. Webelo 2 Leader Lisa Campise from Pack 35, advised that the Cub Scouts November meeting highlights our Veterans and all those who serve to keep us safe.
I would like to thank all of the members from Pack 35 for inviting us to attend, it was an amazing experience.
The below picture depicts Officer Jason Lee interacting with the Cub Scouts of Pack 35 while presenting the Lacey Township Police Department Emergency Services Unit.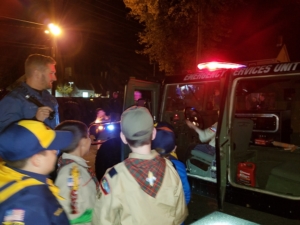 -Chief Michael C. DiBella