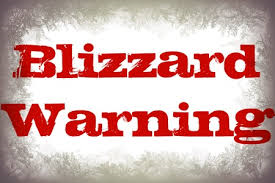 Weather Alert (Winter Storm Stella) for Monday, March 13th and Tuesday, March 14th, 2017 – The National Weather Service has issued a Blizzard and Coastal Flood Warning for our area, this evening, Monday, March 13, 2017, beginning at 10:00 pm and ending around 6:00 pm on Tuesday evening, March 14, 2017.  Accumulations of 3 to 5 inches of snow can be expected late tonight into tomorrow morning along with additional accumulations of 4 to 8 inches of snow throughout the day on Tuesday. Winds between 25 and 35 mph can be expected, with wind gusts as high as 50 mph. Moderate flooding is expected with Tuesday's morning high tide.  As always, residents that live in the low-lying areas within the township may park their vehicles in Gille Park near the hockey rink (102 Manchester Avenue).
Snow covered roads and poor visibility due to blizzard like conditions are expected, so please limit driving during this period.
Just a reminder, please remove all parked vehicles from the roadway as required by Lacey Township Ordinance. Vehicles left in the roadway will be ticketed and towed.  Keeping the roadways clear during and after a snow-fall is necessary so the Lacey Township Department of Public Works can effectively clear the streets.  Additionally, please ensure all portable basketball hoops, garbage cans, etc, are removed from the roadway as well.
Thank you for your assistance and have a good evening.
-Chief Michael C. DiBella