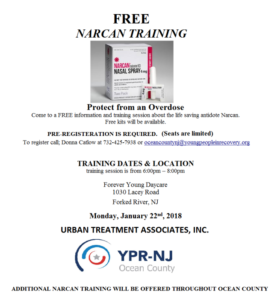 On Monday, January 22, 2018, from 6pm to 8pm, Narcan (Naloxone) training will be offered for free at the Forever Young Nursery School, located at 1030 Lacey Road in Forked River.  The event is being hosted by YPR of Ocean County (Young People in Recovery) and the training will be provided by Urban Treatment Associates, 808 Market Street in Camden, NJ 08102.
Pre-Registration is Required.
To register for the event please contact Donna Catlow at 732-425-7938 or oceancountynj@youngpeopleinrecovery.org
Thank you.
-Chief Michael C. DiBella