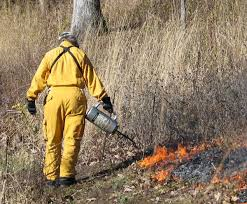 The New Jersey Forest Fire Service, in conjunction with the Ocean County Parks Department will be conducting a prescribed burn operation on Ocean County property within Lacey Township tomorrow, March 14th, 2020. The area impacted is located in the area of West Lacey Road between Spaulding Avenue and Carriage Road, west of the Garden State Parkway. Lacey Road will be impacted by a smoke condition during burning operations, as such, a detour will be established at Lacey Road and the Garden State Parkway and Lacey Road and Dover Road.
The roadway will be accessible to local traffic only between the hours of 10:30 a.m. and 10:00 p.m. Residents located off Spaulding Avenue are requested to utilize the east side of the detour, closest to the Garden State Parkway to gain access to their residence as the roadway west of Spaulding Ave will be closed to vehicular traffic. Residents in the Carriage Road development are requested to access their residence from the west end of the detour at Lacey Road and Dover Road, as Lacey Road will be closed to vehicular traffic east of Penhook Road.
The Lacey Township Police Department and Lacey Township Office of Emergency Management appreciate the cooperation and understanding of local residents during
this temporary inconvenient condition to help safeguard your homes from the threat of wildfire. Thank you.
-Chief Michael C. DiBella