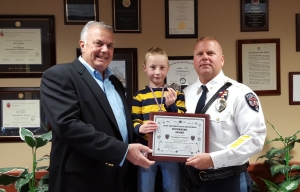 Department News – On Monday, October 12, 2015, Chief David A. Paprota and Mayor Gary Quinn hosted 7-year-old Brandon Timoney of Beachwood at Lacey Township Police Headquarters to present him with a special award and give Brandon an opportunity to meet police officers and receive a special tour of police headquarters. Brandon was recognized as a true superhero by Chief Paprota and Mayor Quinn. Brandon was awarded a Superhero Certificate and given a special Lacey Township Police Department Challenge/Pride Coin. The special coin is generally reserved for members of the police department, but due to Brandon's exceptional efforts on September 23, 2015, to assist the police department, he was awarded the coin by the chief.
On September 23, 2015, at 11:30 a.m., Brandon was on his way with his mother (Marilyn Timoney) to meet friends at Gille Park in Lacey Township. While driving on Western Boulevard toward Gille Park, Marilyn Timoney began to recognize that something was wrong. As she began to feel faint, she quickly pulled her vehicle safely to the side of the roadway near the Mill Pond Elementary School in Lanoka Harbor. Marilyn was suffering from an acute allergic reaction and was quickly beginning to lose consciousness. Before going unconscious, she called out to Brandon that something was wrong and that she needed him to call 911. Marilyn Timoney went unconscious and Brandon quickly unbuckled himself from his booster seat and climbed into the front passenger seat of the vehicle where he saw his mother seated in the driver's seat unconscious and unresponsive.
At 7 years of age, Brandon searched for and found his mother's cell phone and dialed 911. Upon the 911 operator answering the phone, he maintained his composure and asked for help for his mother. Although unable to read yet, and not knowing what town he was in, he was able to provide essential information that assisted officers in locating his mother who was in need of immediate, emergency medical attention. Marilyn Timoney was attended to at the scene by Officer Noah Schaffer and Officer Kymberly Gudgeon followed by Paramedics and Lanoka Harbor EMS. She was transported to Community Medical Center where she made a full recovery.
Brandon is a true superhero and his efforts are worthy of commendation. The certificate and coin presented to Brandon will serve as symbols of his heroic efforts on Wednesday, September 23, 2015.