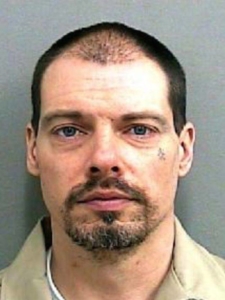 Updated Public Notice (5/9/16 at 1:20 a.m.) – The NJSP have established a command post in Berkeley Township to coordinate continuous monitoring of the area of the Garden State Parkway (GSP). Lacey and Berkeley Township PD's are maintaining additional patrols in each town in the area(s) near the GSP and will do so through the morning hours. There is no known danger in Lacey Township at this time.
Updated Public Notice (5/9/16 at 12:20 a.m.) – Lacey officers are monitoring the area along the Garden State Parkway based on a yet unconfirmed concern that the subject may have been at the Forked River Rest Area at some point. The NJSP are handling checking the GSP. No further information available at this time.
Public Notice (5/4/16 at 4:30 p.m.) – Escaped prisoner Arthur Buckle was last believed to be in a wooded area on foot in Barnegat, New Jersey. Multiple police agencies are involved in the search for the subject who was reported to have escaped from Ancora (Hammonton, NJ) and reportedly made his way to Ocean County in a stolen vehicle. Please view the photo of Arthur Buckle and immediately notify the police department if you see him. Note the distinct markings under his left eye. The Lacey Township Police Department will have additional staffing on patrol until the subject is located. There is no indication that the subject has any ties to Lacey Township at this time.