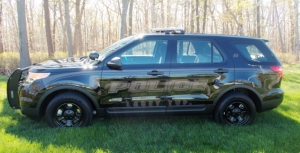 Rt. 539 Enforcement Details – Due to the recent increase in serious motor vehicle crashes on Rt. 539, the Lacey Township Police Department has been conducting directed motor vehicle enforcement details in cooperation with the Ocean County Prosecutor's Office and our neighboring law enforcement partners. A five-mile stretch of Rt. 539 (Mile Post 15.91 to 20.85) runs through the western most portion of Lacey Township near Burlington County. The roadway has a single lane in each direction with a very small paved shoulder area. With violators exceeding the 55-mile-per-hour speed limit and aggressively passing slower vehicles, there is significant danger posed to others, as there is no room for error since the dirt portion of the shoulder of the roadway is mostly very soft and loose sand. The crashes on Rt. 539 tend to be very serious and result in serious injury, and in too many cases, fatalities.
The traveling public should be aware that the motor vehicle laws will be strictly enforced on Rt. 539 in Lacey Township, as the police department will continue to run special details to mitigate the hazardous conditions created by reckless driving on the county road. Likewise, the other police agencies that patrol Rt. 539 in Ocean County will be conducting enhanced enforcement as well. Since February 18th, 2013, Ocean County has experienced fourteen (14) fatal motor vehicle crashes along the nearly thirty-eight (38) mile stretch of roadway which runs north and south through the county passing through eight (8) municipalities. Four (4) of the fatal crashes occurred on the Lacey Township portion of Rt. 539 during that period.
Cooperative efforts are also being undertaken to have improvements made to the roadway to include center line rumble strips to warn motorists who drift onto or across the center lines into the oncoming lane. Likewise, educational efforts are also being made to inform motorists through public announcements such as this as well as traffic warning signs which will be positioned along Rt. 539 throughout Ocean County.
All of the aforementioned efforts are being made with the intention of increasing safety along the very heavily travelled roadway which commonly serves as the conduit between western New Jersey and the South Jersey attractions.   – Chief David A. Paprota, Ed.D.