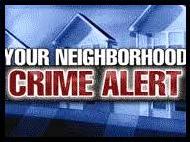 Burglary of a Residence (Arrest) – On the two separate mornings of August 12th, 2014 and August 20th, 2014, an elderly homeowner on Harrison Avenue in Forked River reported that while he was out for breakfast, an unknown person entered his home and stole items of value. During the unlawful entries, the burglar stole cash, jewelry, and documents valued at nearly $10,000.
A one-month investigation by detectives led to arrests on Thursday, September 11, 2014. Christopher Boardingham, 22, formerly of 812 North Lakeside Drive in Forked River, was charged with Burglary and Theft of Moveable Property. Christopher Boardingham was lodged in the Ocean County Correctional Facility in lieu of $25,000 cash bail. The second suspect, Justin Bennette, 24, 839 Devon Street in Forked River, was charged with Possession of Stolen Property, specifically a gold watch valued at $2,000.
The victim has since reported knowing Christopher Boardingham from prior contact when he had C. Boardingham rake leaves in his yard last year. The victim's residence on Harrison Avenue is in close proximity to C. Boardingham's previous address on North Lakeside Drive in Forked River.