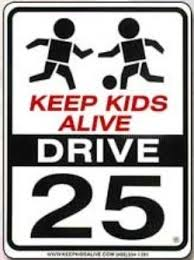 "Keep Kids Alive, Drive 25" Yard Sign Program – The Lacey Township Police Department is announcing our participation in the "Keep Kids Alive Drive 25" safety program. As part of our participation, we have purchased twelve "Keep Kids Alive Drive 25" yard signs. The signs are designed to be prominently displayed in the front yard of a Lacey Township residence along a roadway identified as a concern. Residents who feel vehicles are consistently speeding and posing a danger to children, may request a sign from the police department.
The program will be administered by Patrol Lieutenant Michael DiBella (MDiBella@LaceyTownship.org). The signs will be loaned to residents for three (3) weeks at a time and must be returned by the resident to the police department. The signs may be placed in the resident's front yard where the sign will be clearly visible for passing motorists to view. An important condition in borrowing a sign is that the resident is asked to only display the sign during the daytime hours and is asked to secure the sign for the overnight period.
Any resident interested in picking up a sign to display in his or her front yard is asked to email ChiefPaprota@LaceyTownship.org so arrangements can be made to facilitate the request.
This program includes the continuing practice of fulfilling resident requests for radar enforcement on residential streets in Lacey Township. For example, 89 separate traffic enforcement details have been fulfilled on Taylor Lane in Forked River over the past 6 months alone. Residents in the area requested the enforcement. Residents are welcome to call the Lacey Township Police Department (24/7) at 609-693-6636 to request periodic police radar enforcement as well.  – Chief David A. Paprota, Ed.D.