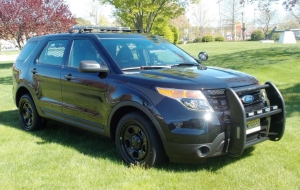 Heroin Distribution Arrest(s)
On Wednesday evening, September 7, 2016, at approximately 7:30 p.m., the Lacey Township Police Department's Narcotics Unit, led by Detective Lieutenant Christopher Cornelius, executed a residential search warrant on the 700 block of Eagleswood Place in Forked River, NJ. The warrant was sought during an ongoing narcotics investigation involving the residents of the home.
During the search of the residence, Lacey detectives recovered 514 chemist folds containing heroin, and multiple medications without a valid prescription. The targets of the investigation, 29-year-old Anthony Cicerello, and his Fiancé, 26-year-old Melissa Loehnert, both of Eagleswood Place, were arrested.
Anthony Cicerello was charged with Possession of Heroin and Intent to Distribute Heroin. He was lodged in the Ocean County Correctional Facility in default of $250,000 bail.  Melissa Loehnert was charged with two counts of Possession of Heroin, Intent to Distribute Heroin, Distribution of Heroin, and Neglect of a Child.  She was released on her own recognizance pending a court appearance.  The approximate street value of the drugs seized is $5,000.
In August 2016, the Lacey Township Police Department initiated its Narcotics Unit, consisting of Lacey Township Police Detectives. The Narcotics Detectives have been and will continue to work full-time on enforcing violations of the drug laws, including but not limited to Heroin and prescription pain meds. As of this date, there have been in excess of 100 Heroin/Opiate overdose deaths in Ocean County. In an effort to extend the reach of the Lacey Township Police Department, I have partnered with the Ocean County Prosecutor's Office Special Operations Group (Narcotics Task Force) to work together throughout Lacey Township and Southern Ocean County to tackle the Heroin and Opiate dealers. In addition to the enforcement aspect, over the next few months, the Lacey Township Police Department will be working with various organizations, both in county and statewide to focus on bringing additional drug prevention and education programs to our community.
The Lacey Township Police Department continues to urge residents to forward crime tips or report suspicious activity to the police department's website, www.LaceyPD.org/crime-tips/
Additionally residents can contact the Lacey Township Police Department by telephone at 609-693-6636. – Chief Michael C. DiBella