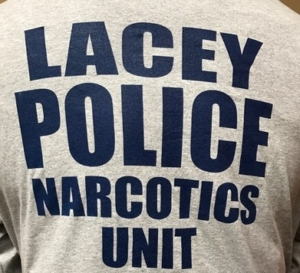 In August 2019, Detectives from the Lacey Township Police Department's Detective Bureau, along with members of the Ocean County Prosecutors Office Narcotics Strike Force and the Toms River Township Police Department Special Enforcement Team conducted an investigation into a Lanoka Harbor resident suspected of distributing Crystal Methamphetamine.
On the evening of September 6, 2019, the above agencies, assisted by the Ocean County Regional SWAT Team and the Ocean County Sheriff's Department K-9 Unit, executed a search warrant on the 1100 block of Laurel Boulevard in Lanoka Harbor.  As a result, Detectives seized approximately 70 grams of crystal methamphetamine and drug paraphernalia consistent with drug distribution.
As a result of the investigation, 37 year-old Joel A. Ord, of Laurel Boulevard in Lanoka Harbor,  was arrested and charged with Possession of CDS, Possession of CDS with Intent to Distribute (2nd Degree), and Possession of Drug Paraphernalia. He was lodged in the Ocean County Correctional Facility pursuant bail reform.
– Chief Michael C. DiBella