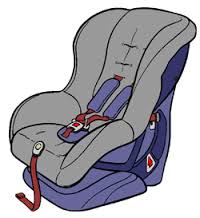 *** Courtesy Child Safety Seat Inspection Event and Prescription Medication Drop-Box ***
Courtesy Child Seat Safety Inspection Event and Prescription Medicine Drop Box – The Lacey Township Police Department is hosting a courtesy (non-enforcement) Child Seat Safety Check on Saturday, September 23, 2017, in the parking lot of the Lacey Township Walmart, located at 580 Route 9 North in Lanoka Harbor. The event will be held from 10 a.m until 2 p.m. Specially trained certified child seat technicians from the Lacey Township Police Department and the Ocean County Sheriff's Department will be on site to conduct a courtesy child seat inspection of installed seats and to assist participants in the proper installation of child seats.
The officers of the Lacey Township Police Department are dedicated to child safety. Over 80% of child safety seats currently installed in vehicles are either the wrong seats for the child being transported or are incorrectly installed. Technicians, will assist not only in the inspection of the seats but will also educate caregivers on the proper seat selection and installation.The event is being hosted by the Lacey Township Police Department and the Ocean County Sheriff's Department. Inspections are expected to take approximately 20 minutes per vehicle. These courtesy child safety inspection events are made possible through a funding grant provided by the National Highway Traffic Safety Administration through the Ocean County Sheriff's Department. The grant includes but is not limited to providing funding for the police officers who work the event.

Furthermore the Lacey Township Police Department will be on site with our Project Medicine (Prescription Drug) Drop-box. The box provides the public with a method to properly dispose of unwanted medication in a safe and legal manner. Please note that no syringes or liquids may be dropped in the box. A Special Police Officer will be on site with the Medicine Drop Box and will be located inside the Walmart in the Pharmacy Department between the hours of 10am and 2pm.
In addition, the Impaired Driver Simulated Course where participants get to wear "Impairment Goggles" and walk through a course, provided by  the Ocean County Health Department will be on location. This will take place in the vicinity of the child seat safety inspection event.
Lacey Township Mayor Peter Curatolo will be in attendance to support these programs and will be available to answer questions.
-Chief Michael C. DiBella