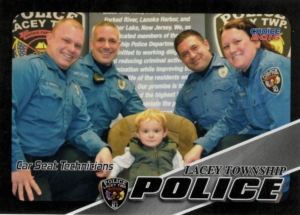 Courtesy Child Seat Safety Inspection Event – The Lacey Township Police Department is hosting a courtesy (non-enforcement) Child Seat Safety Check today, July 15th, 2017, at the Lacey United Methodist Church, 203 Lacey Road, Forked River, during their Shore Fest event. The event will be held from 10 a.m until 2 p.m. Specially trained certified child seat technicians from the Lacey Township Police Department will be on site to conduct a courtesy child seat inspection of installed seats and to assist participants in the proper installation of child seats.
The officers of the Lacey Township Police Department are dedicated to child safety. Over 80% of child safety seats currently installed in vehicles are either the wrong seats for the child being transported or are incorrectly installed. Technicians, will assist not only in the inspection of the seats but will also educate caregivers on the proper seat selection and installation.
The event is being hosted by the Lacey Township Department. Inspections are expected to take approximately 20 minutes per vehicle.
If anyone has any questions in regard to these events you may contact Lieutenant Paul Sullivan, Jr., at 609-693-6636 ext. 2577 or Sergeant Robert Flynn at ext. 2578.
Thank you.
– Chief Michael C. DiBella