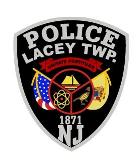 Dangerous Synthetic Drug (Warning) – On Friday evening, April 18, 2014, the Lacey Township Police Department responded to an emergency call involving a Forked River teen who reportedly overdosed on an unknown hallucinogenic substance initially suspected as being LSD. The teen was transported to the Community Medical Center then transferred to the Jersey Shore Medical Center for critical care. The teen is currently recovering from the near death experience.
 The synthetic substance is not LSD; it is actually believed to be the synthetic psychedelic chemical known on the street as "25i" or "N-Bomb." The street names for the drug vary but tend to be based on its chemical composition 25I-NBOMe. Investigation has led to the belief that the synthetic drug may have been ordered by local teens via the Internet. The drug is believed to be distributed on very small, perforated, square tabs of paper similar to blotter acid (LSD) tabs. It is most commonly taken by placing the paper tab under the tongue. The substance is extremely dangerous and will likely lead to organ failure and death in those who use it.
Officers have identified several teens believed to possibly be involved in using the substance. The teens and their parents have been thoroughly advised of the ongoing investigation and the extreme danger related to the drug. This notice is to advise the public of the concern and to ask for the assistance of parents. Parents of teenagers in Lacey Township are asked to speak with their children about this concern. If anyone has information that may be of assistance, they are asked to forward the information through the "Crime Tips" section of the police department website at www.LaceyPD.org/crime-tips/ or call Officer Dimitri Tsarnas at 609-693-6636 x2576.
– Chief David A. Paprota, Ed.D.