RED NIGHT OUT
Friday, March 10th, 2017 – Lacey Township High School Auditorium, 73 Haines Street in Lanoka Harbor – 6:00 p.m.
Lacey Township's Task Force is hosting Red Night Out at the Lacey Township High School this Friday, March 10th, 2017, with information tables opening at 6:00 p.m. in the high school cafeteria.  Presentations will follow, beginning in the auditorium at 7:00 p.m. The Lacey Township Police Department informational tables will include information on the Police Explorer program and the 2017 Junior Police Academy. In addition, Detective Lieutenant Christopher Cornelius will have an informational display on hand and the Ocean County Sheriff's Office will be providing Child ID.
In addition, dinner will be provided starting at 6:00 p.m. in the cafeteria for those who register by March 8th. Complimentary refreshments will be provided. Furthermore, child care will be available in the gymnasium during the event to those who register by March 8th.  To register for dinner and child care please call 609-693-1100 ext. 2203.
The Ocean County Sheriff's Office will be conducting a Police K-9 demonstration and a Drone demonstration in the gymnasium during the Kids Night Out.   Kids Night Out will also include face-painting, a DJ, and a Magician.
Chief Michael C. DiBella and Sergeant Robert Flynn will be presenting on behalf of the Lacey Township Police Department. In addition,  Assistant Prosecutor Anthony Pierro from the Ocean County Prosecutor's Office, along with Steve Willis from Hope Sheds Light will also be presenting. The presentations will address the drug and alcohol problem affecting today's society and the impact on our community.  Substance abuse representatives and resource information will be available on site.
Residents of Lacey Township are encouraged to attend this event and become a part of the effort to diminish the problem of drug addiction which has afflicted too many in our community.
Please see the below attachment for further details.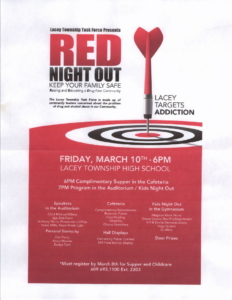 -Chief Michael C. DiBella