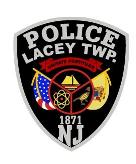 Rescue from the Stouts Creek Marsh – On Friday, August 15, 2014, at 9:24 p.m., the Lacey Township Police Department received a 911 call from a resident of Preble Drive in Forked River indicating they heard someone in the water yelling for help. Officers responded to search the area of Stouts Creek, and within approximately 30 minutes after arriving to the area, Officer Michael Verwey located the individual. The man, later identified as 22-year-old Jason Drackwicz of Ashwood Place in Forked River, was able to utilize the light on his cell phone which caught the attention of Officer Verwey. At that time, it was verified that the subject was not submerged in the water but was actually physically stuck in the marsh and unable to get himself out. At that point, the subject indicated that he had a leg injury and could not move (it was later discovered that the injury was an existing injury for which the subject needed the assistance of a cane to walk). Additional emergency services were requested which included the Lacey Township Underwater Rescue & Recovery (URR) Team, Lanoka Harbor Fire Department, Lanoka Harbor First Aid Squad, United States Coast Guard Search and Rescue vessel, and the NJSP Aviation Hoist Unit.
Jason Drackwicz was found in an area of wet marsh on the north side of the South Branch of Stouts Creek. Officer Androcy responded to Bayside East Parkway which is a short distance west from the specific location. Based on the location description provided by Officer Verwey, Officer Androcy entered the wooded area along the northeast portion of Bayside East Parkway and walked approximately three quarters of a mile until he found Jason Drackwicz.
Officer Androcy found Jason Drackwicz to be wet and cold with his legs stuck in the marsh. He was otherwise not physically injured from the incident. With Officer Androcy's assistance, Jason Drackwicz was able to make his way close enough to the water way of Stouts Creek where the Lacey Township Underwater Rescue & Recovery (URR) boat met them for extraction. Officer Androcy and the members of the Underwater Rescue & Recovery team were able to assist Jason Drackwicz into the boat.
The NJSP aviation unit helicopter was preparing to respond with a hoist crew that assembled in Berkley Township, but their services were cancelled once Jason and Officer Androcy were safe and aboard the rescue boat. Jason was examined by members of the Lanoka Harbor First Squad and was found to not be in need of emergency medical transport.
Jason Drackwicz had apparently entered the wooded area behind the 7-11 convenience store located at 403 Route 9 North in Lanoka Harbor while it was still daylight. He walked deeper into the woods and eventually realized that he was lost as he continued to walk east. Once darkness set in, he was unable to see and ultimately became stuck in the wet marsh mud. During the time period that Officer Androcy was heading to Jason's location, Jason's girlfriend arrived on Bayside East Parkway looking for him. She met with a firefighter along the roadway and was escorted to Sergeant Buxton's location on Richmond Drive. She informed Sergeant Buxton that Jason had called her earlier from his cell phone and told her that he was lost after walking in the woods just before his cell phone signal was lost.