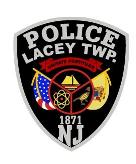 Photo of Airsoft Gun within the Lacey Township High School – On Wednesday, October 08, 2014, at 9:30 a.m., the Lacey Township Police Department received a call from the Lacey Township High School administration reporting a concern regarding a digital photograph which appeared to depict some type of handgun in what appeared to possibly be within the high school. The school officials received the information and the photograph from a conscientious student. School officials were also able to quickly obtain the identity of the students responsible for the photograph. The photograph was reported to have been actually taken during a prior week. School officials notified the police department while immediately implementing protocols to utilize available staff to isolate the students of concern while other staff checked the lockers of those students identified.
Officer Riciardella, Detective Lieutenant Chris Cornelius, Detective Robert Surtees, Detective Samuel Della Sala, and Chief Paprota all responded to the high school and worked closely with Principal Handschuch and his staff to quickly investigate the concern. The matter was quickly determined to involve Airsoft toy guns. No threat was posed to students and staff. The information obtained very early in the investigation indicated that, during a prior week, a male student of the high school brought two separate Airsoft handguns in a backpack into the school building. While within the school, that student captured at least two photographs on a cell phone and later transmitted the photos to others. Investigation revealed that the students commonly play with their Airsoft guns while not in school. While the Airsoft guns depicted in the digital photographs are commonly used as toys, the Airsoft guns are entirely improper in a school environment. Both the Lacey Township School administration and the Lacey Township Police Department are treating the matter seriously.
After further investigation, several of the students who were initially of concern were determined to not be involved in the incident. The investigation has been narrowed to one student's direct involvement and is continuing. All parents and students involved in the investigation where very cooperative and interested in quickly resolving any concern. The decisive action, implementation and use of proper protocols, and the cooperative efforts of the school administration and responding investigators allowed this matter to be resolved quickly without causing unnecessary alarm and without causing a disruption to the school environment.
Any formal charges rendered by police investigators will be determined at the conclusion of the investigation. All persons involved are juveniles.