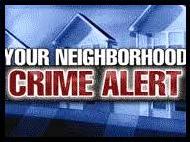 Criminal Mischief – On Saturday, October 5, 2013, at 7:26 a.m., officers received reports of multiple incidents of criminal mischief on Arborridge Drive in the Sea Breeze Development of Forked River. The incidents appear to have occurred between the hours of 10:00 p.m. on Friday, October 4, 2013, and 5:00 a.m. on Saturday, October 5, 2013. The acts of criminal mischief included the following:
101 Arborridge Drive, damaged mailbox, $20.00 in damage.
103 Arborridge Drive, unknown person(s) wrapped black vapor barrier around the mailbox and an exposed sewer line. No damage.
105 Arborridge Drive, broken mailbox flag and spackle thrown on two parked vehicles in the driveway. Smashed pumpkin. The vehicles were cleaned off and did not sustain damage. The mailbox flag and pumpkin damage is valued at $20.00.
106 Arborridge Drive, rear upper window smashed with rock, damage valued at $200.00.
107 Arborridge Drive, spackled thrown at residence. $50.00 to clean spackle off residence.
109 Arborridge Drive, broken front bay window caused by a pumpkin being thrown at it. Damage valued at $100.00.