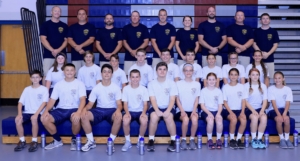 The Lacey Twp. Police Department will be holding a Junior Police Academy for Lacey Township students who have successfully completed the seventh grade and will be entering eighth grade.  The program is designed to provide recruits with an exciting and challenging experience for those students interested in a career in law enforcement.
The four-day course will allow the recruit to observe a mock crime and use each phase of the investigative process to identify and arrest a suspect.  The recruits will be required to work together while participating in the following:
Evidence collection
Fingerprint processing
K-9 track
Interview and interrogation
Court room testimony
The recruits must also participate in a daily physical fitness regimen and military etiquette.
Due to the amount of resources necessary, only 30 recruits will be chosen to participate in the program.  The Lacey Township Junior Police Academy is NOT a program for at risk or troubled youths.  Applicants CANNOT have disciplinary issues and must be able to work independently and with other recruits in a group setting.
Those accepted will be provided with a daily uniform and lunch.  Additionally, the recruit and two family members will be invited to a graduation ceremony that will mimic the graduation of a police officer.  A buffet dinner will be provided for the recruit and his or her guests after receiving a certificate at the graduation.
Students can receive an application at the Lacey Township Middle School Main Office.  Completed applications must be returned to the Main Office by the end of the school day on May 10, 2019.  If the student is accepted, parents/guardians will be notified by mail of an upcoming meeting where a $50 fee will be required.
Parents with questions pertaining to the Academy should contact Lieutenant Chris Cornelius or Detective Charles May at (609) 693-6636.
-Lacey Police-