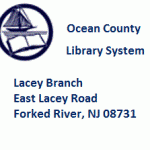 Special Presentation – On Monday, November 25, 2013 the Lacey Branch of the Ocean County Library will be hosting a special program entitled, "Drug Use and Abuse – Heroin."  This presentation will focus on the effects of heroin on the body, how to tell if someone is using heroin, and what the legal consequences are if a person is caught using or dealing heroin. Sign-in is at 6 p.m. and the program is scheduled to begin promptly at 6:30 p.m.  This special program is designed for teens, family members, the public, and educators.  Please call the Lacey Library at 609-693-8566 to register or go to the library website at www.theoceancountylibrary.org.
Registration is required as space is limited.
This program will also be repeated the same time on December 5th at the Toms River branch (732-349-6200).
Professional Development Certificates are available.
This free program is funded through a community collaboration of the Ocean County Board of Chosen Freeholders, Ocean County Youth Services Commission, OC Health Department, NJSC Ocean County Probation and Juvenile Supervision, the Ocean County Library, Municipal Alliance Project, and the NJ Governor's Council on Alcohol and Drug Abuse.