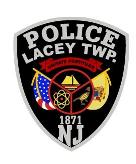 Department News (Retirements) – Congratulations to Officer Joseph Soto and Special Officer Kenneth Martin on their September 1st, 2014, retirements from the Lacey Township Police Department. Officer Soto is known throughout the community for his charisma and outgoing personality which was most evident with his work with the schools and the youth of Lacey Township. Special Officer Kenneth Martin is well-known for his efforts to keep our township parks, businesses, and the schools safe for the youth of Lacey Township. Both officers will be missed by the police department and the community as a whole.
Also, good luck to Special Officer Jesse Urban and Special Officer Travis Horton who have both moved on in their careers. Special Officer Jesse Urban is now a full-time police officer in the Pine Beach Police Department while Special Officer Travis Horton has moved on to the Manalapan Township Police Department.
The retirement of Officer Joseph Soto marks the loss of 14 full-time police officers (not including special officers) from the Lacey Township Police Department in the past 4 1/2 years. The members of the Lacey Township Police Department look forward to the graduation of 5 new officers from the Ocean County Police Academy in January of 2015 as the rebuilding process continues.