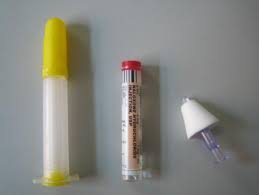 Naloxone (Narcan) – The patrol officers of the Lacey Township Police Department are now equipped with the emergency medication Naloxone Hydrochloride which is commonly known by the brand name Narcan. The medication is part of a specially designed kit which provides for the administration of the medication through the nasal passages of an overdose patient. Each patrol officer received the training required under the Overdose Prevention Act (N.J.S.A. 24:6J-1 et seq.). Officers are normally not permitted to administer medication, but the Overdose Prevention Act provides a special legal exception for a person who "may be in a position to assist another individual during an overdose." The Naloxone program for police officers is designed to save lives by providing first-responders with the acute-care medication which serves as an immediate antidote for an opioid (Heroin or pain pill) overdose. Historically, an overdose patient would receive a dose of Naloxone upon the arrival of paramedics on scene. Now, officers will be administering the antidote well in advance of the arrival of the paramedics.
The Overdose Prevention Act was not initially designed for first-responders. The intent of the act which became law on May 2, 2013, was to provide family members, etc., of addicts with the ability to possess Naloxone. Again, the law is designed for a physician to prescribe the medication to any person who "may be in a position to assist another individual during an overdose" (N.J.S.A. 24:6J-3).
The Lacey Township Police Department is engaging in every possible effort to decrease the drug overdoses within the township, and most notably, the number of deaths associated with drug abuse. As such, in addition to the police officer Naloxone program, we are working with a local resident who is taking steps to bring a free Naloxone training session to this area for our residents. The special program provides training to parents, etc., who are interested in obtaining Naloxone. Once an interested resident completes the required training session, the program includes a free Naloxone kit as funded by a dedicated state grant. Anyone interested in the training is encouraged to email ChiefPaprota@LaceyTownship.org. Those who are interested in the program do not need to identify themselves in the email to Chief Paprota, as the email expressing interest will simply be forwarded to the individual citizen who is attempting to coordinate the training for our area. Once a sufficient number of interested persons express a desire to attend the training, a training session will be scheduled for mid-to-late May. – Chief David A. Paprota, Ed.D.