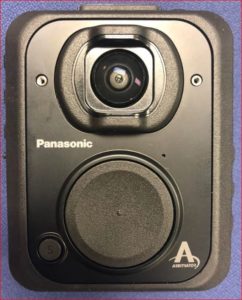 The above photo depicts the body worn camera (BWC) that will be worn by our uniformed Police Officers. The body worn camera (BWC) program will begin Tuesday, February 4th, 2020. 
The Lacey Township Police Department has made a promise to serve our community with honor and integrity in order to maintain your confidence in our organization. In continuing that promise, we are pleased to announce that we will be implementing the use of Body Worn Cameras (BWC) for our department. The program will begin tomorrow morning, February 4th, 2020. All uniformed Sergeants and Police Officers assigned to the Patrol Division will be wearing body worn cameras and recording interactions with the public when carrying out official duties.
The use of the body worn cameras will be another tool available to assist our police officers while performing their duties. There are several positive aspects of the body worn camera program, including, but not limited to:
Being a transparent police department. This helps create additional trust between the community and our agency.
Protects our police officers and the public from false claims.
The body worn cameras provide an opportunity to capture the good work our police officers do on a daily basis.
They may increase crime and DUI convictions.
Body worn camera video can be used for in-service training purposes.
The Body Worn Cameras will be worn on the upper portion of the Officer's outer most garment (for example, the officer's uniform shirt)  as depicted in the attached video.
I would like to thank all of the organizations, businesses, and residents who supported this program. They include, but are not limited to, Brick-Wall Corporation, the Lacey Moose Lodge, the Forked River Rotary Foundation, the Lacey Elks #2518, the Old Guard of Forked River, the American Legion Memorial Post 517, the Lacey Red Hats, Walmart, Exelon Corp/Exelon Generation, and our local residents. In addition, I would like to thank the Lacey Township Governing Body for their support.
If anyone has any questions regarding this program you may contact Lieutenant Christopher Cornelius at 609-693-6636 ext. 2566.
Thank you,
-Chief Michael C. DiBella