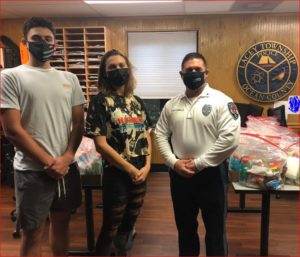 The above photo depicts Aristotle Matarazzo (left), Gracie Preslar (center) and Lacey Police Chief Michael C. DiBella (right) on the afternoon of Friday, September 25, 2020. Aristotle and Gracie provided "thank you" bags to each member of the Lacey Township Police Department. 
Last Friday, September 25, 2020, Lacey Township resident Aristotle Matarazzo and Gracie Preslar,  arrived at Police Headquarters bearing a number of care packages for our officers.  The care packages were personally bagged by them and contained  generous amounts of snacks and beverages, for our officers to carry with them in their patrol vehicles during their respective shifts.  We are humbled by Aristotle's and Preslar's kind gesture, as they supplied enough care packages to accommodate each member of our police department.
Aristotle is a recent graduate of both Lacey Twp. High School, Class of 2020, and the Ocean County Vocational Technical School's Academy of Law and Public Safety.  He currently serves as a Class I Special Police Officer for a nearby municipal police department and has aspirations of becoming a full time police officer.  In addition, both Aristotle and Gracie are members of the Ocean County Chiefs of Police Law Enforcement Cadet Post and have worked with our officers on a number of occasions. We wish them both well in their careers.
A big "Thank you" to Aristotle, Gracie, and everyone who assisted them, the "thank you" bags are so much appreciated!
-Chief Michael C. DiBella