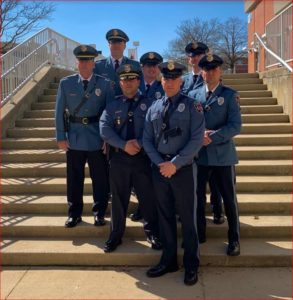 The above photo depicts Officer Matthew D'Antonio (immediate front) after graduating from the 108th Basic Class of the Ocean County Police Academy. The photo was taken on the morning of March 4th, 2020, just outside the Grunin Center, located at Ocean County College in Toms River. The above photo also includes (in no particular order) Lacey Police Chief Michael C. DiBella, Lieutenant Christopher Cornelius, Lieutenant Paul Sullivan, Jr., Sergeant George Resetar, and Officers Scott Keefe and Michael Hutman. 
On the evening of Thursday, September 12, 2019, Matthew D'Antonio of Lacey Township was sworn in as a Lacey Township Police Officer. Shortly after he began the Ocean County Police Academy's 108th Basic Class and graduated today, March 4th, 2020.
Matthew was born and raised in Lacey Township and graduated from Lacey Township High School in 2008. In 2010 he graduated from Ocean County College with an Associates degree in Criminal Justice.  In February 2011 he enlisted in the United States Army, ultimately stationed in Fort Drum NY with the 10th Mountain Division, serving as an artilleryman.
In June 2014 Matthew received an Honorable Discharge from the Army and returned home to Lacey Township. In September 2014, Matthew attended Stockton University, ultimately graduating in 2016 with a Bachelor's Degree in Criminal Justice. In March 2018, he began working as a security officer for Southern Ocean Medical Center in Stafford Township, NJ.
Matthew comes from a family of first responders, including but not limited to his Father, Robert D'Antonio, who is a Retired Fire Captain from the North Hudson Regional Fire and Rescue Squad.
Officer D'Antonio has been assigned to the Patrol Division and will begin a FTO (Field Training Officer) program later this week.
Congratulations Officer D'Antonio, welcome to the Lacey Township Police Department.
-Chief Michael C. DiBella