The above photo depicts Officer Anthony Sarno interacting with Forked River Elementary School students during the May 19th, 2017 Career Day.
On Friday afternoon, May 19, 2017, Officer Anthony Sarno participated in the Forked River Elementary School's 2017 Career Day. Officer Sarno presented to six classes, Kindergarten through 4th Grade. Each presentation lasted approximately 30 minutes and included 15 to 30 students. During each presentation, Officer Sarno discussed the responsibilities police officers have to the community, as well as what kind of calls the police respond to, including emergency 911 calls. Additionally, Officer Sarno spoke about the proper use of dialing 911, along with the various equipment worn and used by police officers. At the end of each presentation, there was a question and answer time. The Lacey Township Police Emergency Services Vehicle (Humvee) was presented to the school students. Each student was allowed to sit in the Humvee and have his or her photograph taken by their respective teacher.
The below picture depicts the Lacey Township Police Department's Emergency Services Vehicle, presented during the Forked River Elementary School's Career Day.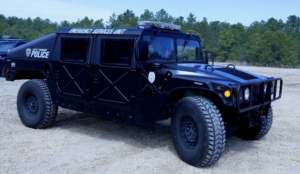 I would like to thank the Lacey Township Board of Education, along with the Forked River Elementary School Staff for allowing Officer Sarno to participate in Career Day.  We look forward to participating in additional school events.  Thank you.
-Chief Michael C. DiBella