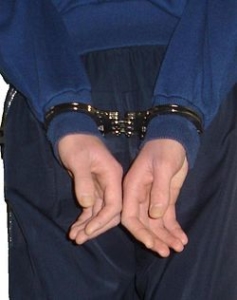 On Friday, December 22, 2017, at approximately 9:00 a.m., a resident of Roanoke Drive in Forked River, witnessed a suspected burglary to a home across the lagoon from hers. The caller witnessed a male subject break the glass of a sliding door and enter the Ranger Drive residence.  The caller also alerted her son, who was able to provide dispatch with a description of the suspect's vehicle. Officers responded and searched the area but were unable to locate the suspect or his vehicle. The homeowner, who was not home at the time of the burglary, was able to provide a list of items stolen from her home that included a specific list of jewelry.
As the investigation continued, a suspect was identified as a person Lacey Township Police Officers had dealt with earlier in the morning. At approximately 7:00 a.m., patrol officers were dispatched to Sinclair Avenue in Lanoka Harbor, for a suspicious person.  Once there, officers spoke with 30 year-old Thomas Laffey, of Oak Road in Lanoka Harbor, who was sleeping in his parked vehicle.  He was released at the scene without incident.
At approximately 12:00 p.m.  Berkeley Township Police Officers located the suspect's vehicle in the Baywick Plaza.  Lacey Police detectives responded there and met with the driver, Thomas Laffey.  He was ultimately arrested and charged with the burglary, theft, and criminal mischief after detectives discovered a piece of jewelry missing from the victim's home.  Thomas Laffey was lodged in the Ocean County Correctional Facility to await a bail hearing.  The investigation also led to the recovery of all the stolen jewelry.
Residents are urged to contact the Lacey Township Police Department at 609-693-6636 whenever they observe suspicious activity.  In an emergency, call 911.
Thank you.
-Chief Michael C. DiBella