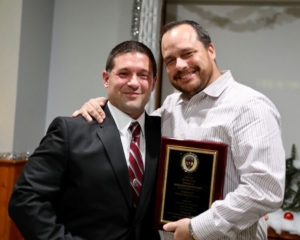 The above picture depicts Detective Keith Pearce (right) as he receives the 2016 Officer of the Year Award, during the Lacey Township Police Department's First Annual Awards Ceremony, held at the Lanoka Harbor Fire Department.
On Friday evening, December 9th, 2016, the Lacey Township Police Department held its First Annual Awards Ceremony at the Lanoka Harbor Fire Department. The Awards Ceremony was sponsored and supported by the Lacey Police Department PBA/SOA, and acknowledged those officers who were nominated throughout the year to receive awards.  This year awards were issued to Officers Anthony Sarno, Christopher Meyler, Julie Barcalow, and Scott Keefe, for their actions involving a residential structure fire on Serpentine Drive in Forked River, on November 25, 2016. These Officers, along with members of the Forked River Fire Department, helped save the life of an 81-year-old female who was trapped inside the residence. I couldn't be more proud of everyone involved, including our volunteer firefighters, who truly are an asset to Lacey Township.
In addition, Detective Keith Pearce received the "2016 Officer of the Year Award."  Detective Pearce was hired by the Lacey Township Police Department in 1996 and spent the first 19 years of his career assigned to the Patrol Division until being transferred to the Detective Bureau in 2015. In July of 2012 Detective Pearce received a "Life Saving" award for his act of diving into a pool while in police uniform, to save the life of a 77-year-old male who was drowning. Detective Pearce had pulled the victim out of the pool and began CPR, ultimately saving the victim's life. Most recently in May of 2016, Detective Pearce was assigned to a large-scale search for a 38-year-old male who had escaped from Bayside Prison in New Jersey. The escapee was originally believed to be in Barnegat Township, but ultimately it was learned he was in Lacey Township. The search involved several agencies including but not limited to the Lacey Township and Berkeley Township Police Departments, the Ocean County Sheriff's Department, the New Jersey State Department of Corrections and the New Jersey State Police. On Monday morning, May 9, 2016, Detective Pearce was assigned to the Garden State Parkway Rest Area in Forked River with a member of the New Jersey State Department of Corrections. After being notified that a suspicious male was observed in the woods adjacent to mile marker 76.5 northbound, Detective Pearce without delay, responded to the location and took the escaped prisoner into custody without incident. Detective Pearce's actions ended the six-day search.
Detective Pearce is a knowledgable and well respected officer. He is looked up to by his peers and is known as someone you can talk to. Detective Pearce has an outstanding ability to remain calm and always seems to have a smile on his face.  Once again, I would like to congratulate Detective Keith Pearce and thank him for his dedication and service to the community.
–Chief Michael C. DiBella